What is Somatic Trauma Therapy?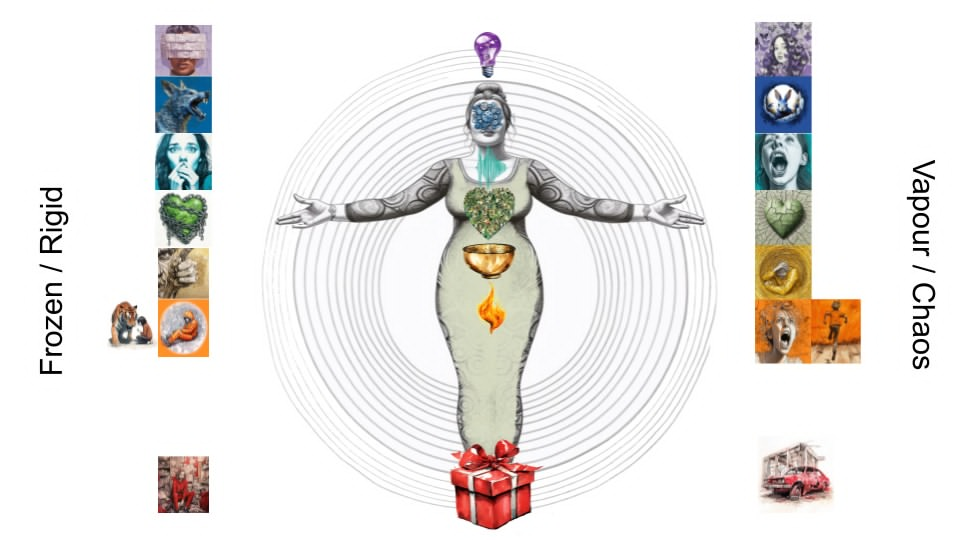 Slide 1

Somatic Trauma Therapy starts with building your mindfulness resources so that you can find your anchor, your totem pole, your standing stones.   This is the beginning of our work.  First, you become grounded.  Then we have a safety rope to bring us back home when we head into the wilderness.
Slide 2
Now that we are safe we map the terrain.

We do this using the Embodied Creativity Framework.
This assesses where your learned behaviours and defence mechanisms are accidentally shortcircuiting your success.
Slide 3
Then we head into the wilderness looking for lost parts

When you have experienced trauma your mind develops parts.  Some parts are protective, some parts go into hiding, and some are exiled.  But here is the thing.  There are no bad parts.  They are just parts in need of an upgrade.  To be brought to consciousness and given a new role that supports your dreams and doesn't accidentally sabotage them.
Slide 3

Some of this work can be done on your own.  But a lot of it requires an empathetic and skilled mentor to hold space for you while you digest the trauma.   This is what I do.  I help you to meet and befriend all of the parts of you and give them new roles.  Even the ones that scare you right now.  They always were doing their best to meet an unmet need in your past.  Together we develop strategies to have those needs met now.
My Background as a Therapist
For the past 30 years, I have worked in Women's Health.  First as a nurse corps officer in the U.S. Navy, then as a creative youth worker, and now as a Somatic Trauma Therapist.
I have witnessed the dialling down of natural gifts and talents due to the impact of trauma.  People lost to addictions as a self-medication to avoid the pain.  But it doesn't have to be like that.
Lineage
My Somatic Therapy practice pulls from several modalities - Non-Violent Communication, Hakomi method, Polyvagal theory / Neuroscience, Internal Family Systems, Nursing Science, Ayurveda, Chakra Dance, Creative Therapy, Energetic healing, Attachment theory, and how they intersect with new discoveries in Quantum Physics.
I have been through the gauntlet myself and understand what it is like to be like a floating head, completely disconnected from your body.  Dealing with body shame and sabotaging behaviours.  It is messy and frustrating and the good news is that there is a way through it.
It wasn't your fault you experienced trauma.   And unfortunately, the trauma has likely buried some of your natural gifts.
Working with me is one way to dust them off and breathe life back into them.